"Sai cosa vuol dire TOSHIBA in giapponese?"
"Funziona poco e male."
--cosi' disse PaulTT.
"Do You know the meaning of TOSHIBA, in Japanese?"
"Works a little and bad."
--so PaulTT said.

Various images
Toshiba. Funziona poco e male.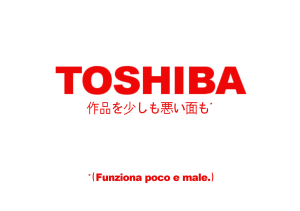 A4 print resolution - 1280x800 version

un ringraziamento particolare a Davide RosPo e al suo portatile Toshiba,
che ci hanno permesso di scoprirne il significato!




(c)2008 Paul T.Threshold